Rev. Andrew Kowalczyk Appointed to St. Philomena Parish as New Pastoral Administrator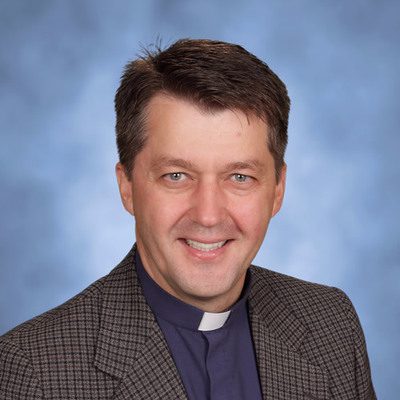 Archbishop of Detroit, The Most Reverend Allen H. Vigneron has appointed the Reverend Andrew Kowalcyk, current pastor of St. Clare of Montefalco and a member of the Congregation of St. Michael the Archangel (CSMA), to be Pastoral Administrator at St. Philomena Parish, effective September 1, 2017.  St. Philomena is  located at 4281 Marseilles, near Mack Av. in Detroit.  Msgr. Peter S. Lentine, pastor at St. Philomena for the past 50 years, died on August 1, 2017.  The parish plan developed in 2012 provided for a cluster relationship between St. Clare and St. Philomena when Msgr. Lentine was no longer available to serve.
St. Philomena is the second parish in the US to be entrusted to the pastoral care of the CSMA—the Michaelite Fathers.  Father Andrew's guidance will allow St. Philomena Parish to offer Masses and services, continuing it's mission to the Grosse Pointes and Detroit.
Fr. Andrew (as he prefers to be addressed) said, "As a Catholic Community, we strive to encourage an environment where we can live as Christ did, worship together, serve others, and grow as a community in faith."
The weekend liturgy schedule remains the same, supported by Bishop Thomas Gumbleton, Fr. Donald Worthy, Fr. Albert Sandor, Fr. Mark Luedtke, Fr. Dan Crosby, and now Fr. Andrew.  The Religious Education program continues under the guidance of Mrs. Kelly Woolums.  Our Minister of Music, Mrs. Louise Veltri will continue to enhance the liturgies.  Food pantry and outreach programs wil continue.
"All of our activities and ministries are designed to promote the building up of the Body of Christ in our midst," stated Fr. Andrew.
St. Philomena Parish is open for business and continues to do God's work.
Mission Statement
Faith and Family best represent our mission at St. Philomena Parish. It is our faith, witnessed in community with each other, that enriches, encourages and enables us to see everyone as members of God's family and deserving of our love and concern.
 St. Philomena Prayer
O God, the Giver of all that is necessary, bless our Parish Family. Strengthen our faith in You and grant us the spirit of stewardship so that we may provide for the needs of our Parish. Let us continue to grow in caring, in teaching, in worshiping, in serving and in welcoming all who come within our doors. Thank you Lord!
Monsignor Peter S. Lentine Education Endowment Fund
The Monsignor Peter S. Lentine Education Endowment Fund provides tuition financial assistance for students preparing for the priesthood at Sacred Heart Seminary, Detroit.
If you would like to contribute, call Darren Hogan, Associate Director of Charitable Gift Planning at 313.883.8748.
Parish Policy
Our policy asks that you be an active registered parishioner for at least six months or active in your previous parish to have your child baptized at St. Philomena or to be married here. Active participation means: attending Mass regularly, using your envelopes and taking part in parish activities.